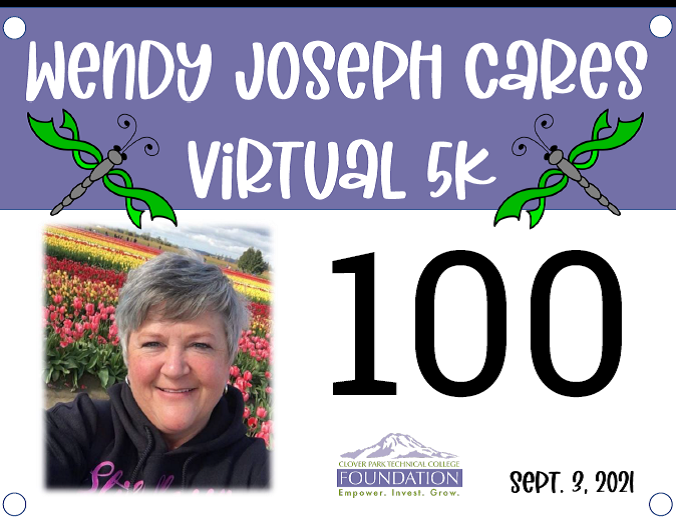 At the request of friends and family, the Clover Park Technical College Foundation is hosting a Virtual 5K Fun Run to help establish an endowment to honor Wendy Joseph.
This endowment will provide sustainable scholarship opportunities for students at Clover Park Technical College.
Wendy served as the Director of Financial Aid at CPTC, where she worked to ensure students could cover the costs of pursuing their education. The Wendy Joseph Cares Scholarship Endowment will continue her legacy of bettering the lives of others by providing scholarships for single-parent students at CPTC.
Please help us reach our goal of raising $12,000 by signing up for this 5K Fun Run or by contributing below.
Cost is $40.00

Wendy worked in student financial aid for over 20 years. She was successful in the different roles she had and if you knew Wendy when she wore her Financial Aid Administrator hat, you know she would do all she could to make sure students succeeded in their college career. Her passion, commitment, and love in the work she did at CPTC touched many lives and left lasting memories. Wendy will always be a part of our CPTC family, and her scholarship will help support many single parents in the future.
WHAT is a Virtual Race? We race separately but we race together in spirit!
Do any distance you like whenever and wherever.
Although you can do this run/walk at any time, many of us plan to honor Wendy by walking on September 3.
Your race packet (medal, bib number) will be mailed to you after you register.
You can do your event at any time thereafter. Wendy's friends designed her medal and bib, and then the medal was made by the CPTC Manufacturing program.
How long do I have to do the race?
You can do the race at any time; this is a fundraiser and meant to be fun and honor Wendy Joseph. Registration will remain open until all medals have been sold. (125) so order your bib and medal today!
Remember why we are participating.
All funding supports students at Clover Park Technical College. You can read their stories at https://friendsofcloverpark.org/student-stories/