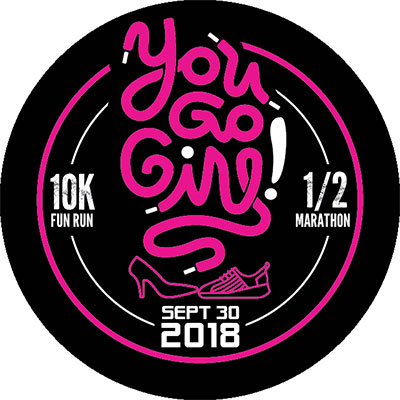 It's been 4 years...You Go Girl! is BACK
Half Marathon & 10K
Tacoma, WA
September 30, 2018

www.tcmaevents.com/events/you-go-girl-half-marathon-10k









ONLINE REGISTRATION
HALF MARATHON


HALF FANATIC MEMBERS RECEIVE $20 DISCOUNT

3 PERSON HALF RELAY
10K
Opening Day May 15
$75
$95
$35
May 16
$85
$110
$40
July 1
$95
$125
$45
August 1
$105
$140
$50
September 3
$115
$145
$55
September 17
$125
$170
$60
Packet Pick-Up
$135
$185
$65

Packet Pick-Up
TCMA Headquarters
3812 N 26th St, ste C
Tacoma, WA 98047
A small transaction fee is assessed when registering online
NO DAY OF RACE REGISTRATION
***Register by Monday, September 10th to be guaranteed a shirt size. After September 10th, you will receive a shirt but we can not guarantee size and color.

Find all information about the course, event beneficiary and sponsors, hotels, packet pick-up, volunteering,
and much more at www.tcmaevents.com/events/you-go-girl-half-marathon-10k.
Tell Your Friends!
Comments will appear on your friends' news feed.