January 11, 2014
An evening of trail racing: The Bridle Trails Winter Running Festival includes 5-mile, 10-mile, 50K solo, and 50K relay races.
It takes place at Bridle Trails State Park in Kirkland.
Races start at 3:00pm.
DRIVING AND PARKING
A Discover Pass is required to park inside Bridle Trails State Park. For your convenience, the park staff will be selling Discover Passes on-site. A single-day pass is $10, and a 12-month pass is $30.
Northbound: Take exit #17 off of I-405. At end of off-ramp, turn right and head south on 116th Ave. NE.
At four-way stop, continue straight ahead. The park entrance is located at the first opening in the trees on the left.
Southbound: Take exit #17 off of I-405. At end of off-ramp, turn right and cross over freeway.
At the first light, turn right again. Head south on 116th Ave. NE. At the four-way stop, continue straight ahead.
The park entrance is located at the first opening in the trees on your left.
Parking inside the park is limited, and we will set aside much of it for 50k participants and carpools, so please carpool, if possible. The park & ride lot adjacent to the freeway exit provides a good place to meet and form full carpools before entering the park. There is also limited parking up and down the street from the park entrance. If parking on the street, please park out of the way of traffic. Please be prepared to talk with and follow directions from the parking attendants. The reserved areas may not accommodate all 50k runners or carpools, let alone everyone else, so please leave yourself enough time to find street parking nearby and then check in before the start.
EVENT-DAY SCHEDULE
1:30 p.m. — Event-day check in opens. Day-of-race registration is back for 2014.
2:50 p.m. — Pre-start line-up and announcements
3:00 p.m. — 5-mile runners start
3:05 p.m. — 10-mile runners start
3:10 p.m. — 50k runners start (including solos, pairs, and relays)
4:38 p.m. — Sunset
11:00 p.m. — Course sweep begins by this time
12:00 a.m. midnight — Course closes, all runners should check in at the finish by this time
THE COURSE
All runners will use the same 5.2-mile loop of trails, mostly going clockwise around the perimeter of the park. The route will be marked with orange and white streamers, as well as yellow glow sticks after dark.
Some sections of the trail are rough, rutted, or muddy, and it is Winter, so please watch your footing, and expect to get wet and dirty.
This course is famous for its mud!
Sunset is at 4:38pm, and it will get dark under the forest canopy pretty quickly after that. If it is overcast or raining/snowing, it will get dark earlier. If there is a good chance you'll be on the course after that time, please bring a headlamp with enough battery life to get you to the finish!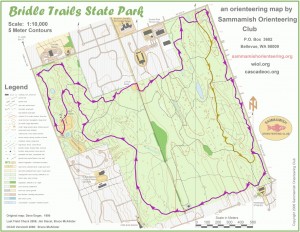 The course is highlighted in Magenta again for 2014 (yellow highlighted route is detour from 2012). The route sticks to the outer perimeter of the park. Click on small image above and again on next page that comes up. Or go directly to a large image here: http://seattlerunningclub.org/wordpress/images/2012/11/bridle-trails-50k-loop-2013.jpg
SAFETY AND TRAIL ETIQUETTE
There are many runners out there, and the trail will be somewhat congested after the start until runners spread out. Maintaining a sporting and cooperative attitude toward other runners will keep things fun for everyone. There are a few narrow stretches of trail, but the route is mostly wide enough for careful passing. If you are overtaking another runner and wish to pass, please announce your approach to alert the other runner, as needed; if you are being overtaken, please allow the overtaking runner to pass when possible.
This is not the best trail run on which to bring a dog, due to the large number of runners sharing the trail, the size of the trail, and the fact that there could be horses. However, if you would still really prefer to run with your dog, please note that dogs must be kept on a leash at all times at the park, and you must be able to keep your dog (and its leash) from interfering with other runners and from barking at or stalking horses or other animals.
Signs are posted weeks ahead of time in order to notify other park users of this event, however the park is open to others during the run. Please be courteous and share the trail with any other users you encounter. In particular, please know what to do in the event that you encounter a horseback rider: stop, step to the side of the trail (the lower side if on a slope), and yield the trail to the horse. Also, talk to the rider to help put the horse at ease; say hello and ask whether it is okay to walk past or whether you need to stand still. Please follow this rule of the trail to keep yourself and others safe and so that we will be welcome to have this event in future years.