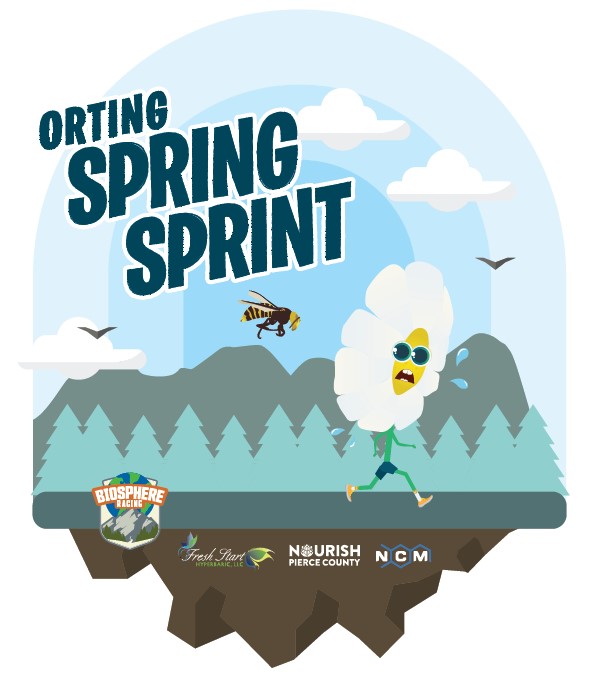 2nd Annual Orting Spring Sprint 5K and 10K
9AM Saturday, June 25th, 2022
Foothills Trail - Orting Skate Park
425 Washington Ave SE, Orting
Feel that fresh spring breeze? Antsy to get out and run? Ever-so-slightly concerned about the (possible) return of murder hornets? Us too!
Join Biosphere Racing in a relaxing 5K or 10K along the beautiful Orting Foothills Trail. Come celebrate the return of spring--and the start of a wonderful run season. This event is chip timed!

Registration closes on June 2th--don't miss out! Please, no dogs.
Running with a Purpose
COVID-19 has devastated Pierce County's food banks, and they need our help now more than ever. A portion of all proceeds from this run are donated directly to Nourish Pierce County--so you can help others while enjoying the spring air!
Registration includes a shirt and medal--with the option to upgrade to a hoodie, providing an additional donation to Nourish Pierce County! Please note that shirts and medals are only guaranteed with registrations on or before May 8th. The option to upgrade to a hoodie will disappear at this time to reflect this.
Pricing
$45 through May 4th
$50 onward
Please add $6 to upgrade to a hoodie.
Can I donate to NPC directly?
Yes! A portion of all race proceeds goes to NPC, and when registering, you are able to donate directly. Upgrading your shirt to a hoodie also means a larger donation to NPC!
Packet Pick Up
Day of Race
Please observe all COVID-19 guidelines at this event. Masks must be worn and social distancing observed at both the start and finish line--and when passing another runner on the course. As per state guidelines, no spectators are allowed at this event. Unfortunately, we are unable to offer refunds for this event.