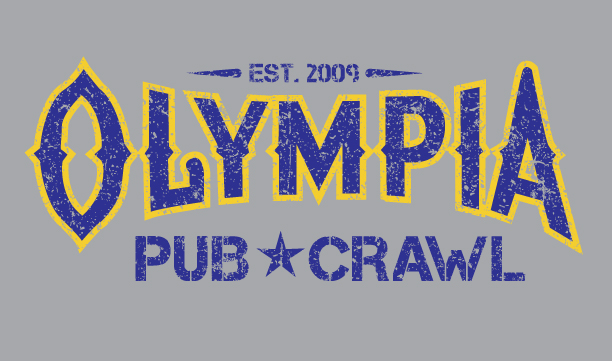 9th Annual Olympia Pub Crawl
August 12, 2017
2pm-12am
facebook.com/OlympiaPubCrawl






Founded in 2009, the Olympia Pub Crawl is a walking tour of the pubs, bars, and restaurants in downtown Olympia. Participants include a wide variety of people, all who want to support local businesses and an important cause while having fun doing it! Each year the Olympia Pub Crawl fundraises for a local charity focused on children and families in need.

Proceeds from this year's event will benefit Seattle Children's Hospital, for childhood cancer research and family support.
The Pub Crawl begins with a Kickoff Party starting at 2pm at The Society (120 4th Ave. E, Olympia WA 98501).

The Pub Crawl ends with a Last Call Party starting at 7pm, at The Eagles Club (805 4th Ave E, Olympia, WA 98506). *Includes live music with Big Blue Van!

Registration Pricing (Includes t-shirt, Kickoff Party & Last Call Party Admission)

$15 EARLY BIRD SPECIAL! through 2/28
$20 - 3/1 - 6/20
$25 - 6/21 - 7/20
$30 - 7/21 - 8/4
$35 - Day of Event
T-shirts while supplies last for registrations received after 7/20.

Choose an optional hoodie with your registration ($35 extra)!
AND/OR Trucker-style embroidered hat ($25 extra)

ONLINE REGISTRATION ENDS AUGUST 4 (midnight).





Questions?
Contact Molly Sjoboen
(360) 970-6854
olyhopesprings@gmail.com
Tell Your Friends!
Comments will appear on your friends' news feed.