Men's MM "In Training" Yellow Tee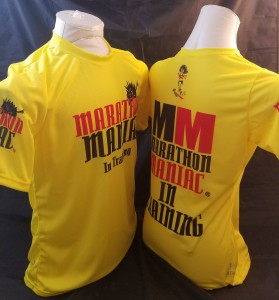 $
39.95
Product Description
Are you or do have a friend, spouse, or family member who is training to become a Marathon Maniac or needs that extra push to qualify for the Maniacs? Then this is the shirt for you or them!
Maniac "In Training" ATAC Tee with Marathon Maniac logo on front/ back and "In Training" on front, back, and sleeve.
100% polyester tech material. Manufactured by ATAC Sportswear
Sizing: Small > Chest 39", Length 27.5"
Medium > Chest 42", Length 28.5"
Large > Chest 45", Length 29.5"
X-Large > Chest 48", Length 30.5"
XX-Large > Chest 51", Length 31.5"
XXX-Large > Chest 54", Length 33"