Home

/

Store

/

Women's Double Agent Broncos Color Singlet (Close Out Sale)
Women's Double Agent Broncos Color Singlet (Close Out Sale)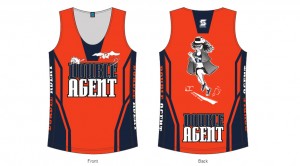 $
16.95
Product Description
Product Description
Sublimated singlet with logo on front and the Women's Double Agent on the back. Please keep in mind that the women's DA singlets are fitted less than the DA tees in the chest/ mid-section region.
Sizes: X-Small- Chest 29-31", Waist 24-26"
Small- Chest 31-33", Waist 26-28"
Medium- Chest 33-35", Waist 28-30"
Large- Chest 35-37", Waist 30-32"
X-Large- Chest 37-39", Waist 32-34"
XX-Large- Chest 39-41", Waist 34-36"
XXX-Large- Chest 41-43", Waist 36-38"