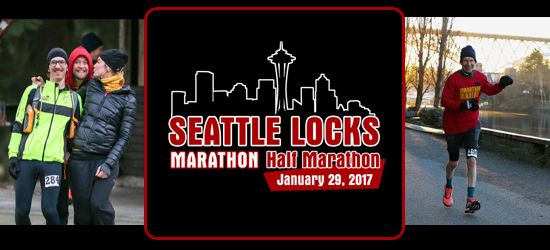 Sunday, January 29, 2017
8:00 am
seattlelocksmarathon.com






Location of Event
Starts at Woodland Park in Seattle and runs along the Burke-Gilman trail. We will be starting at the restrooms/picinic shelter at Woodland Park. Click here for a map.
Parking
There should be plenty of parking at Woodland Park or Green Lake.
Registration
This is a "fat ass" event. Even though this is a free event, please register so we can make sure to make enough finishers medals. When you register for the race, you may add a donation if you would like (donation will go to cover the costs of the event).
Race Shirt
A short sleeve tech shirt can be purchased for $15. If interested please order when registering before January 9th. There maybe extra shirts available at the event for purchase for $15 (cash/check).
Here's what the shirt looks like: Click Here
Here's a sizing chart: Click Here
Cap
Since this is a fat ass event, the event will be capped at 150 runners.
Course
The marathon is a double out-and-back course starting at Woodland Park in Seattle and running down Stone Way to the Burke-Gilman Trail heading west toward Golden Gardens Park. It's not a closed course and runners will be rerquired to obey all traffic laws. You can see a map of the course here: http://www.gmap-pedometer.com/?r=4181253 The Half Marathon is a single out-and-back.
Weather
It's New Year's in the Pacific Northwest, what do you expect?! It will likely be cold and possibly wet (or icy and snowy). So be prepared.
Aid Stations
As a fat ass event, you will be asked to carry your own aid. There will be no aid stations setup on the course, but there are plenty of coffee shops and grocery stores along the course where you may get water or aid as needed. At the start/finish we will have water, Gatorade, chips, cookies, etc.
Awards
Each finisher will receive a finishers medal.

If you have any questions or comments please contact the race director
Steve Walters 26freak@gmail.com