Covid 19 response.
We want to thank you all for your support over these past 3 years. In the event of any event must be postponed. we can not offer any refunds. We will move you to the new date, you can run the event virtual and we will mail you your shirt, swag bag and medallion and you may transfer to another event of the same dollar value. If you have any questions or concerned please feel free to email us at allthingsfunsports@gmail.com.
Thank you again and Happy Running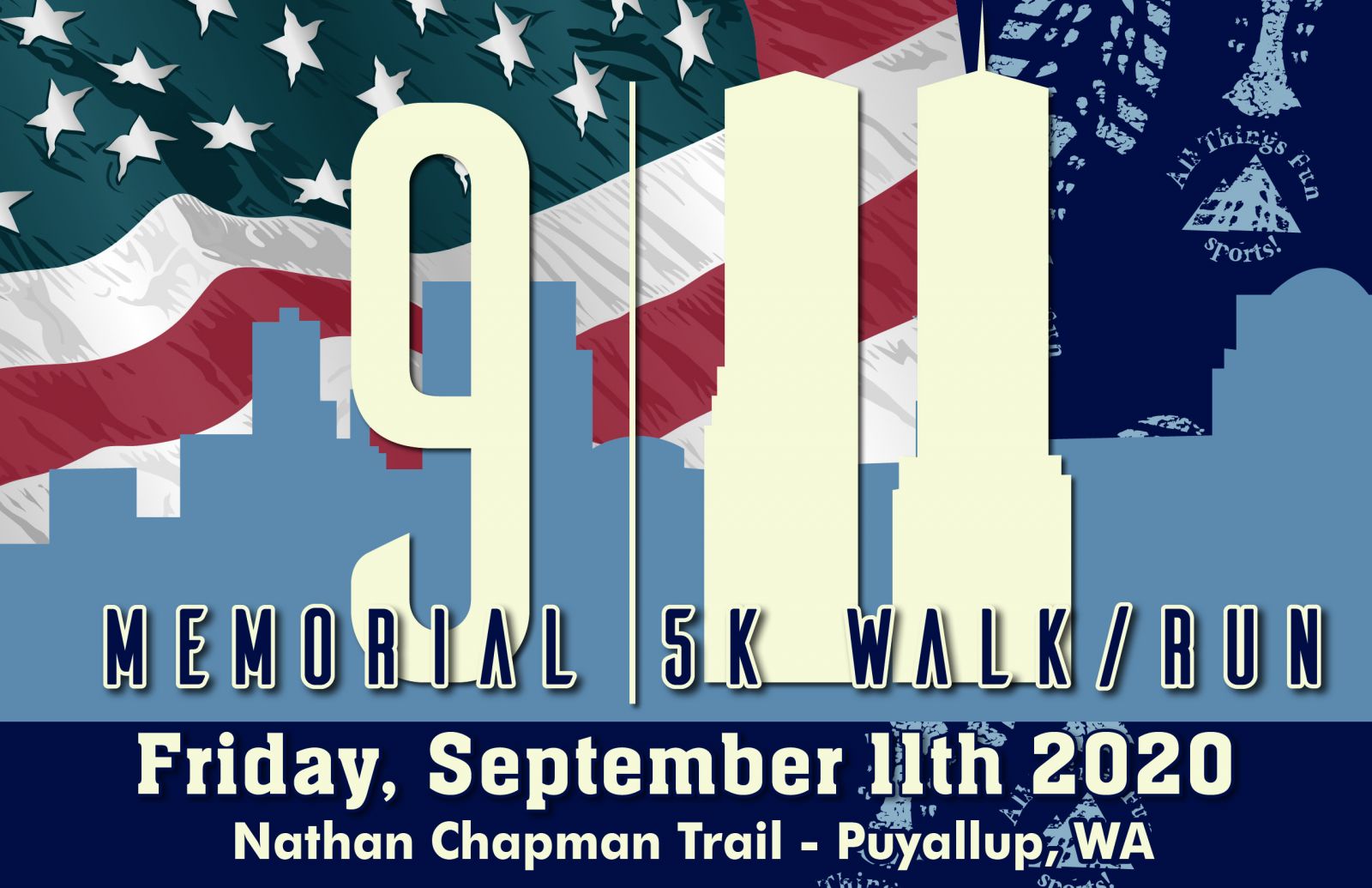 Saturday, September 11, 2021
10:00 AM
Nathan Chapman Trail, South Hill, Puyallup, WA
Please join us for the 20th Remembrance of September 11th. 20 years ago the United States was suckered punched and we lost First Responders and everyday people. The phrase "Never Forget" rings loud as we honor those who gave their all. We will be filling the boot for the Central Pierce Fire Benevolent fund.

Registration Cost:
Early Bird Special: $35 January 6th - July 1st
Show your Support: $40 July 2nd - August 5th
Never Forget: $45 August 6th - August 26th
Late to the Game: $50 August 27th - September 6th
Discounts:
$5 Military
$5 First Responder
$5 All Things Fun Sports! Membership
$5 MRTT Membership
$5 NWFitCo Membership
$5 Puget Sound Runners Membership
$5 Black Girls Run Membership
No discounts on early bird pricing. Please no mixing and matching--one discount type per person.
Shirt Sizes:
XS
Small
Medium
Large
XL
2XL (please add $4)
3XL (please add $4)
Shirts and special medallions guaranteed until August 31st.
Packet Pick Up:
TBA
If you cannot make it to packet pick up or you have any questions please email us at: Allthingsfunsports@gmail.com
Mailing: After great discussion with the team and following the current changes with USPS. We feel it is not cost effective for the customer to receive your race swag. Starting NOW we no longer will have a mailing option. If you can't make it on scheduled pick - up dates or time, please reach out directly to us at allthingsfunsports@gmail.com to discuss your options.
If you already have paid for mailing we will of course honor that or refund your money.
Refund Policy: A 100% refund is available within 72 hours of registration. After that, a 75% refund is available for 60 days after registration. More than 60 days after the date of registration no refunds will be provided. Transfers and deferrals are strictly at the race director's discretion. There are no refunds on early bird pricing and no refunds 30 or less days before the event. In the interest of public safety, your registration may be used for COVID-19 contact tracing as necessary. ABSOLUTELY NO SELLING OR TRANSFERRING REGISTRATIONS!